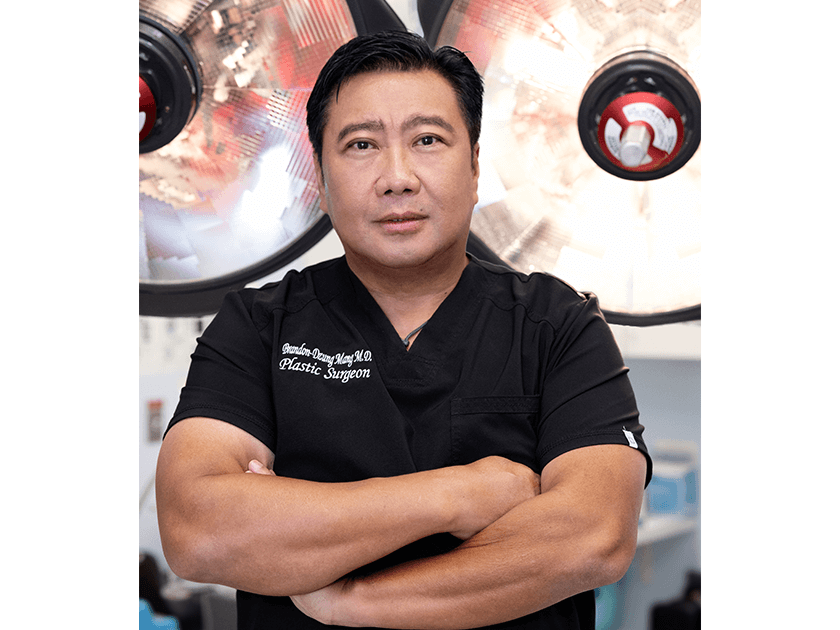 Dr. Brandon-Dzung Mang is a board-certified plastic surgeon who specializes in intricate procedures for the face, body, and breasts. As founder and lead doctor of Rejuve Aesthetic Surgery, Dr. Mang is a renowned and skilled plastic surgeon in the Tampa, FL area. To complement his artistic eye and precise technique, Dr. Mang is known for his compassion, sense of humor, and excellent bedside manner. Patients love the time he takes to listen to their needs and ensures they feel confident with their treatment choices. At Rejuve Aesthetic Surgery, Dr. Mang is dedicated to helping you look and feel your best.
Dr. Mang graduated cum laude with his bachelor's degree in biology from Syracuse University. During this time, he received several notable awards, including the Ornstein Scholarship for Academic Excellence and Who's Who Among American Universities. After graduating from Syracuse University, Dr. Mang received his doctorate of medicine from Tufts University School of Medicine. He attended his surgical residency at Mount Sinai Medical Center and with Albert Einstein Medical Center. He also completed a hand surgery fellowship at Rush University Medical Center and a plastic residency at UT Health Science Center San Antonio. Throughout his education, he participated in several prestigious research studies and published multiple articles.
Dr. Mang is gifted at performing both surgical and nonsurgical procedures. With years of experience, Dr. Mang has helped patients enhance their natural beauty with lip augmentations, Brazilian butt lifts, breast augmentations, tummy tucks, and arm lifts. He is also trained in specialized Asian facial procedures, such as Asian rhinoplasty, Asian facelift, and Asian blepharoplasty. For patients who prefer nonsurgical beauty enhancements, Dr. Mang has extensive experience with microdermabrasion, chemical peels, wrinkle relaxers, and dermal fillers.
Professional Organizations
Dr. Mang is a proud member of the following organizations:
American Board of Plastic Surgery (ABPS), diplomat
American Medical Association
American Society of Plastic Surgeons, member
American Society for Aesthetic Plastic Surgery
Tampa Bay Plastic Surgeons Association
American College of Surgeons, fellow
When he is not at work, Dr. Mang loves to golf, play tennis, draw, and take photographs.
Reviews
"Had Liposuction and he was amazing. Im still very swollen but I can tell he did an amazing job. The staff is amazing and the office and OR is very clean and neat. Thanks for the staff and for everything. If you are looking to get lipo at a good price he is the doctor for you."
N.R.
Google
"Dr. Brandon Mang has recently relocated his Pinellas Park office to South Tampa on Gandy Boulevard. I normally receive Botox injections from a nurse practitioner at a nearby practice. The people who have injected my Botox in the past have been quick in their process...almost too quick. Dr. Mang takes the time to discuss your areas of concern, applies numbing cream, and then marks these areas with Betadine to ensure no infection and proper placement. I chose Dr. Mang because he is an expert in his field. He and his staff are professional and friendly. Dr. Mang's genuine bedside manner with his patients is truly one of the best I have ever encountered. He takes the time to answer all your questions and discusses the advantages and disadvantages of the procedures you are inquiring about. I highly recommend Dr. Brandon Mang for all your plastic and cosmetic surgery needs."
A.M.
Google
"This doctor is amazing I have lost so much weight and feel so good about myself because of him ! What a professional talented doctor he is seriously the results are amazing "
I.G.
Healthgrades
"I work in the plastic surgery field and could have chosen any Dr for my mommy make over but Chose Dr Mang because of his experience and personality.   He did an absolutely amazing job and transformed me both Inside and out.  His work is very natural.  No one even knows I had implants with my lift because of how they look.  Staff very loving and caring and I have recommended all my friends!"
D.M.
Google
"I always wanted to try out Botox, just a chicken committing because I don't like needles; A few of my coworkers went with me to ease the idea of doing it alone.It's important to note, they used clean and individual packages of needles for each of us and numbing cream with betadine on the spots I wanted to be injected with the filler. The process wasn't bad at all, especially since they were doing a $9/unit special accompanied by a glass of Rose - how can I say no to that? When Dr. Mang injected my forehead and pulled out the needle, you can hear a small crunch; this is normal and Dr. Mang explained if you don't hear this sound, it is not being done correctly. I wouldn't have done this or brought other people unless it was anyone else than fellow Yelper, Anna M., because I trust her so much.Thank you for the opportunity - even though I got 10 units vs. 50 units of botox compared to a coworker - I feel that it was effective to iron out my wrinkles, even though I know I have minimal amount heading into my 30s. This was my X-mas gift to myself!I saw firsthand the difference for people who do have a lot of wrinkles & are young, so IMO botox is such an amazing product to help smooth out wrinkles."
J.X.
Google
Related Posts